Solarfields Dashboard
Do you want to build solar fields, but want to avoid the peripheral matters? Solarfields helps you to make the investment, build the solar panels and manage them. They want to make the Netherlands more sustainable by reducing CO2 emissions and they show that sustainability and a profitable company go hand in hand. Sounds like a feel-good company don't you think?
The opporunity
There is quite a lot of competition for companies such as Solarfields, so it is important to distinguish yourself. Solarfields therefore focuses on providing the best service for its customers.
Solarfields' customers indicated that they want to be able to show their customers how sustainable they are. This gave us the idea to design a dashboard that would fulfill that wish.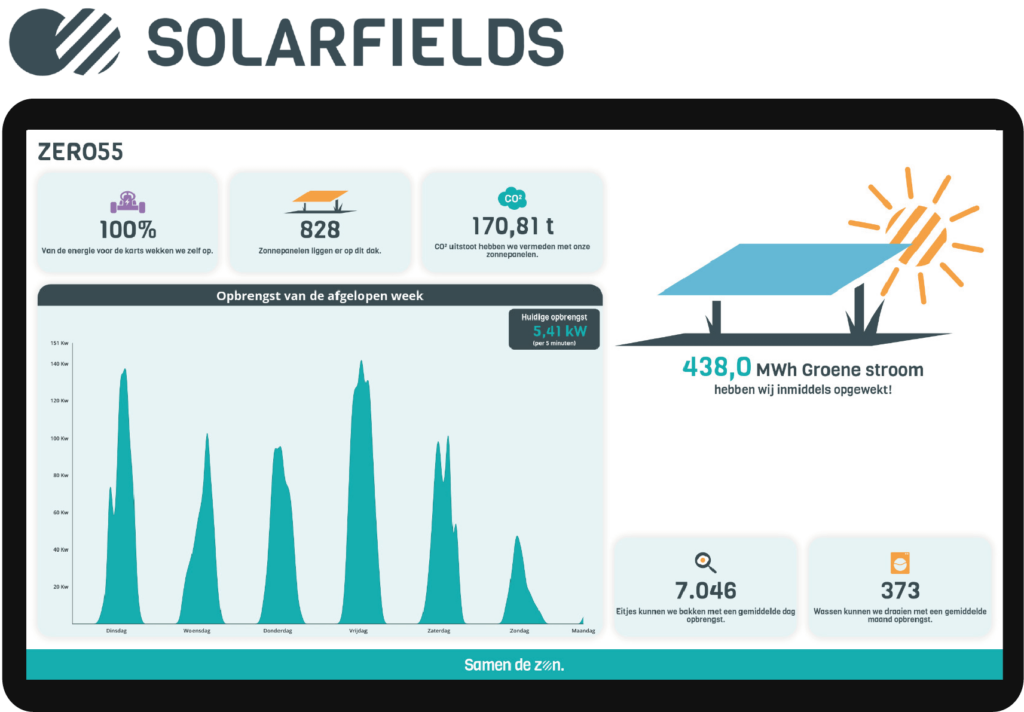 The Solarfields Dashboard
The dashboard was initially built for one customer: Zero55, an organization that offers electric karting and laser gaming. Their roof is full of solar panels and they generate 100% of the energy they use themselves. Of course a company that is doing so well wants to let its customers, the people who come karting, know about this.
However, it's not an easy task. If you tell me that you have generated 438.0 MWh of green electricity, I cannot make and image of it, except that that is probably a lot. That's why we came up with the idea of adding comparisons that anyone can understand. For example: you can fry 7,046 eggs on average per day and you can do 373 washing machine runs per month or you can charge 100 karts on average per day. Everyone can understand that.
The Solarfields team is very pleased with the dashboard and our service. We maintain a good relationship with them and are discussing further cooperation and expanding the Dashboard.